The Rec Center is open!
Monday - Friday 5:30am - 8pm
Saturday 6am - 4pm
Sunday Closed
Check out our newest brochure
Summer 2021
Click the cover to read the whole brochure or download it here.
Saline Summer Kids Camp 2021
Before you return to the Rec, read through some new procedures and protocols that will be in place.
Click on the press release for a larger view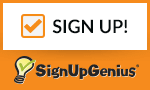 Click this button for our signups!

This link will be the same each week and the sign ups will be updated.
On Fridays and Saturdays, when we release the new schedule, the link will have both weeks of sign ups listed. Make sure you are signing up for the correct week. Sign ups are tabbed at the top. You must complete your sign ups for one tab at a time.
*UPDATE* Basketball will no longer require a sign up. If you would like to play basketball, you may drop in at any time. Basketballs are still not provided. Indoor fitness classes have exclusive access to Gym side A. To kmow when fitness classes will be in the gym, check out our Gym Schedule.
Aquatic Sign Up
At this time there is only 1 person or 2 people in the same household per lane. Reservations are for a 45 minute time slot. A maximum of 3 signups per week will be enforced.
If you are having trouble finding the signup go to
SignUpGenius.com and search for it using the signup creator's email address which is sferguson@cityofsaline.org
Need some help with SignUp Genius?
Get the directions here! Download the PDF file.
To register for programs online, go to www.salinerec.com,
or call the Rec Center at (734) 429-3502

Want to become a member of the Rec Center?
Click here for Membership Information
1866 Woodland Drive

Saline, Michigan 48176

(734) 429-3502
---